Home
April 18, Friday night performance:
100 tickets remaining at the door; box office opens at 6 pm.

April 19, Saturday night performance: SOLD OUT
Mass in B minor




by J. S. Bach
Marc Vallon, conductor
Madison Bach Musicians collaboration with Madison Choral Project
Friday, April 18
6:45 pm lecture by MBM director Trevor Stephenson, 7:30 pm concert
First Congregational Church
1609 University Ave., Madison WI 53726
Saturday, April 19
6:45 pm lecture by MBM director Trevor Stephenson, 7:30 concert
First Unitarian Society, Atrium Auditorium
900 University Bay Drive, Madison WI 53705
On April 18 & 19, 2014 the Madison Bach Musicians (Trevor Stephenson, director) and the Madison Choral Project (Albert Pinsonneault, director) will collaborate in two performances of J. S. Bach's monumental masterpiece the Mass in B minor, BWV 232. The April 18 concert will be given in the magnificent setting of the sanctuary at First Congregational Church (1609 University Ave.), a landmark building in Madison's cultural life. The April 19 concert will be in the acoustically brilliant Atrium Auditorium of the First Unitarian Society of Madison (900 University Bay Drive). The performances will feature a 24-piece period-instrument baroque orchestra, 5 outstanding vocal soloists, and a 17-voice professional choir from the Madison Choral Project. Internationally recognized early music specialist Marc Vallon (UW-Madison professor of bassoon) will conduct the performances. Madison Bach Musicians artistic director Trevor Stephenson will give a pre-concert lecture both evenings to discuss the period instruments, Bach's compositional process for the Mass in B minor, and the important role this masterwork has since played in shaping music history ("Stephenson prefaced the concert with one of his witty and personable but exceedingly informative lectures.." John W. Barker in Well-Tempered Ear, December 2013).
The range of expression and the spiritual singularity of purpose that Bach summons in the Mass in B minor is overwhelming and unendingly satisfying. Bach certainly understood how important the piece was, for he crafted and re-worked it throughout the last eighteen years of his life; many scholars now believe that the Et incarnatus est (And the spirit became flesh)  movement from the Credo was perhaps the last piece that Bach ever wrote. MBM will give an entirely period-instrument performance of this work with an orchestra of outstanding baroque performance specialists hailing from throughout the United States–Madison, Milwaukee, Oshkosh, San Francisco, Chicago, New York, Las Vegas, Minneapolis, Philadelphia, and Washington DC! Featured are three natural baroque trumpets (valve-less construction–a soaring, open sound), natural french horn (also without valves, unforgettably elegant obligato lines in the famous Quoniam bass solo), calfskin timpani (astonishing clarity of pitch and immediacy of rhythmic impulse), two baroque flutes (wooden construction, sweetness of tone), two baroque oboes (all wooden construction, a deep chesty sound; Bach lavishes many of his most expressive melodies on the baroque oboe), two baroque bassoons (wooden construction, a dark spinning sound, largely part of the rich continuo under-layer of the style), a twelve-member string band led by MBM concertmaster Kangwon Kim (7 baroque violins, 2 violas, 2 cellos, and bass, fitted out with period-style gut strings and played with period bows). Continuo organ (tuned in 18th-century Well-Temperament which helps establish the mystical character of the Mass's central tonality, B minor).
Tickets may be purchased in advance or at the door.
Advance ticket prices: $20 General, $15 Students/Seniors (over 65)
Tickets at the door: $25 General, $20 Students/Seniors.
Cash or checks only. Please make checks payable to Madison Bach Musicians.
Baroque Violin I
Kangwon Kim – concertmaster
Sara Usher
Mary Perkinson
Christine Hauptly Annin
Baroque Violin II
Brandi Berry
Nathan Giglierano
David Rubin
Baroque Viola
Marika Fischer Hoyt
Micah Behr
Baroque Cello
Martha Vallon
Anton TenWolde
Bass
Ross Gilliland
Continuo organ
Trevor Stephenson
Baroque flute
Linda Pereksta
Monica Steger
Baroque oboe
Luke Conklin
Kristin Olson
Kostas Tiliakos
Baroque bassoon
Marc Vallon
Sam Allen
Natural horn
Todd Williams
Baroque trumpet
Josh Cohen
Joelle Monroe
Justin Bland
Baroque timpani
Sean Kleve
Vocal Soloists
Chelsea Morris – soprano
Sarah Leuwerke –  alto
Geoffrey Agpalo –  tenor
Timothy Takach –  bass
Sopranos
Rachel Edie Warrick
Christina Kay
Marie McManama
Chelsie Propst
Cheryl Bensman Rowe
Mezzo Sopranos and Altos
Katie Butitta
Ena Foshay
Amy Hartsough
Sarah Schubert
Tenors
Trey Davis
Dan Feeney
Daniel O'Dea
Mark Wurzelbacher
Baritones and Basses
Ed Ford
Matt Love
Michael Peterson
Dennis Reece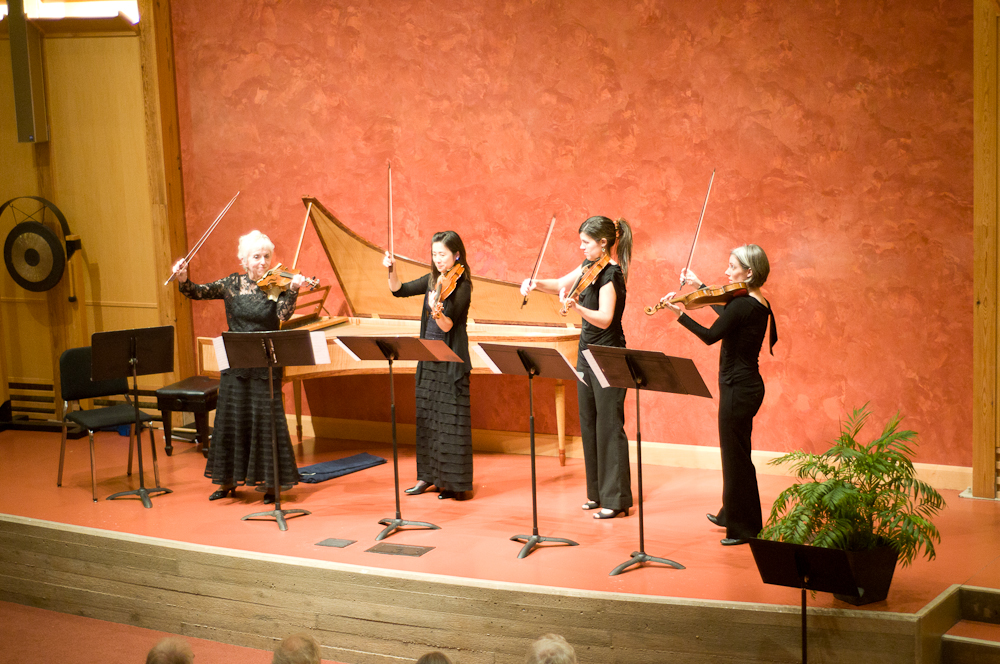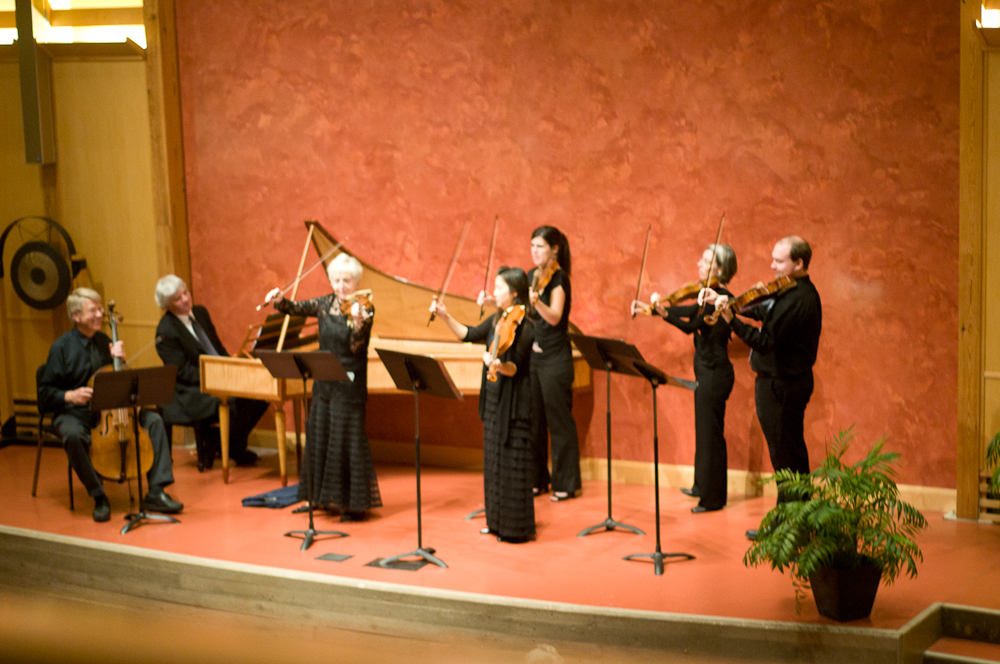 The Madison Bach Musicians ensemble is dedicated to presenting the music of Johann Sebastian Bach—as well as works by other great composers of the Baroque, Renaissance, and Classical periods—through performances, lectures, and workshops. Bach's music was chosen as a focal point because of its outstanding beauty, variety, and profundity and because it speaks with urgency to modern audiences; it is the high water mark of musical expression and craft in western culture. MBM provides a unique forum for professional and exceptionally talented young musicians to work together in an exciting and engaging period performance style. In pursuit of the greatest clarity we perform primarily on period instruments, and our ensemble sizes are typical of those used by Bach himself. 2013-14 is our tenth anniversary season! We look forward to seeing you at the concerts!
– Trevor Stephenson, Artistic Director